Buy The Getaway High Speed Pinball Machine. The Getaway: High Speed II Pinball Machine has been fully reconditioned and is in great used condition. Visit our website to view a variety of Pinball Machines for sale and buy at the best available prices
The Getaway: High Speed II Pinball Machine is manufactured by Williams, makers of some of the greatest pinball machines in history.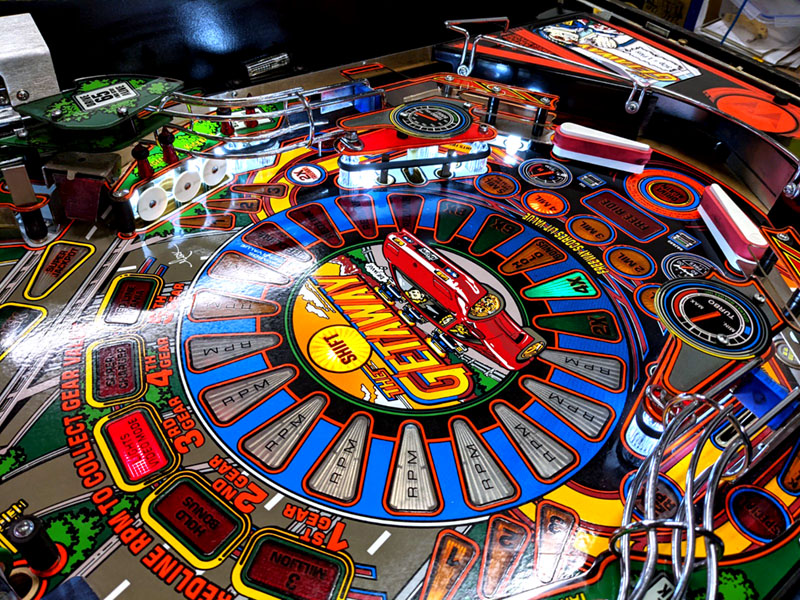 Released as the sequel to Steve Ritchie's groundbreaking 'High Speed' machine from 1986, The Getaway: High Speed II picks up where 'High Speed' left off, revisiting the classic game design and literally supercharging it. Stepping up to the Getaway will reward players with easy to learn objectives that will take time to master, high octane action on the open road, an intense multiball finale and most importantly: Even more blistering speed than the original.
The goal of the game is to run the red traffic light, then get away from the armed police pursuit that results and chases you down the highway. Strap yourself in, run the red light and leave the police in the dust!
Key Features:
Run the Red Light: Show the police who rules the road by running the red traffic light, and escaping from the armed pursuit to score enormous jackpot rewards.
Gear Shifter Plunger: Unlike a traditional plunger, players launch balls using an authentic car gear shift lever.
Build up the Revs: Shoot loops to rev your engine, then shift gears using the gear shift lever to access higher levels of rewards.
Electromagnetically powered 'Supercharger': Launch the ball into this powerful engine to watch your ball accelerate to incredible speeds.
Red Beacon Light: Large red police-style beacon activates during certain modes, lighting up your entire game room.
'The Getaway' Video Mode: Speed down the highway weaving in and out of traffic to earn large point rewards.
Hard-hitting soundtrack including ZZ Top's hit 'La Grange'.
Internal wall artwork
LED upgrade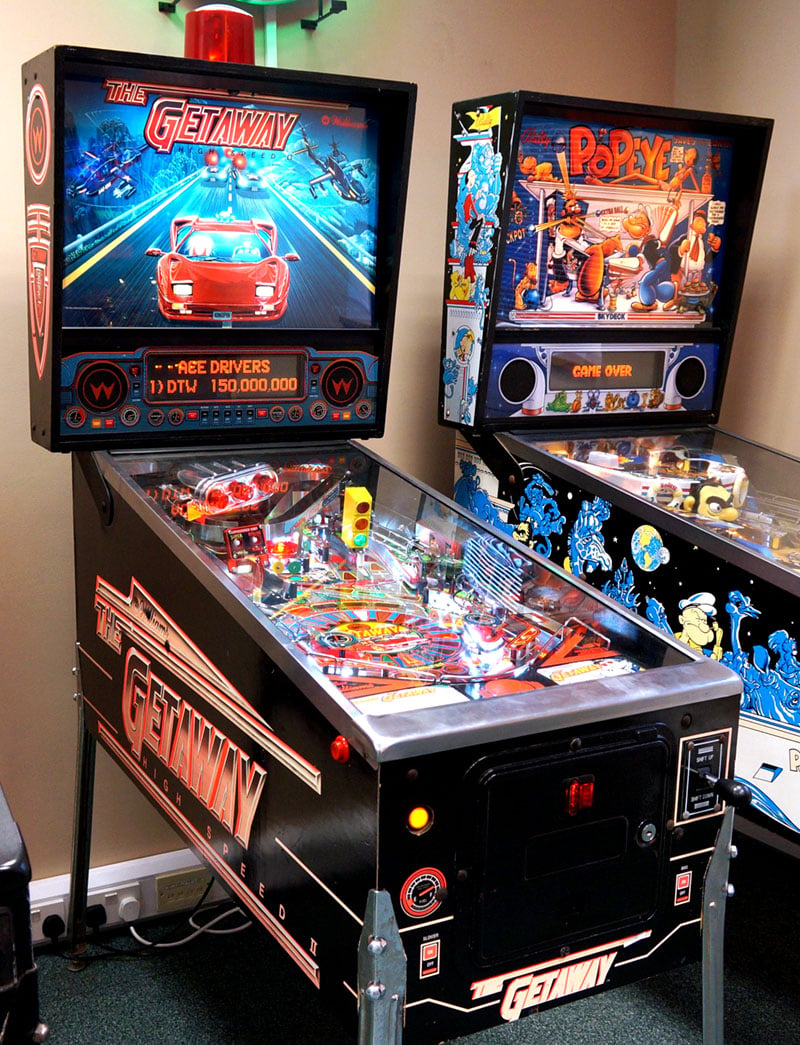 If you'd like to try out a classic pinball machine, we have a vast collection of over 15 different classic titles from various big pinball manufacturers like Bally, Williams and Data East on display in the showroom. All of these games are set up and set to free play for you to try for yourself. Even if we don't have the exact machine you're looking for, we can recommend other games that may play similarly.
We recommend phoning our showrooms ahead of your visit so we can give you a rundown of every machine we currently have on display to try.
We are keen pinball enthusiasts and have experience of owning and playing a wide variety of pinball games. If you are looking for high quality impartial advice it is definitely worth paying us a visit. There's nothing like playing a few games to get a real appreciation of how good a game really is.
Condition:
Reconditioning and Servicing – 26 Point Checklist:
Buying a pinball can be a lot like buying a car: there can be problems underneath the bonnet that you wouldn't even know about until they interrupt your fun!
It's worth noting that pinball machines are complicated in their workings. There are pitfalls to buying a second-hand pinball machine elsewhere, and if you don't know what to look for, you can have an incomplete machine running at less than its potential. Furthermore, you could purchase a machine that is 20-30 years old and has a serious electrical fault.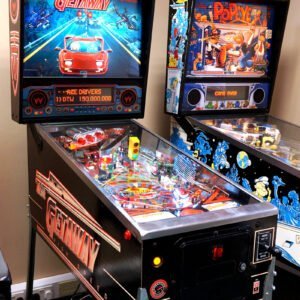 Availability:
Our pinball machines are available from stock and usually take 2 to 4 weeks to be reconditioned and to be taken through our 26-point check. Sometimes this can be turned around in a quicker time frame; at other times it can take a little longer, especially if any parts are needed. You should then allow 7 to 10 working days for your pinball machine to be delivered, depending upon location and customer availability.
Please note that our classic pinballs tend to sell very quickly, so please call us before visiting the showroom to check we still have this particular model available.