Buy Whirlwind Pinball Machine Online. This is the third Williams pinball game designed by Pat Lawlor (after Banzai Run and Earthshaker), and the second of his 'blue series' of games ( Earthshaker, Whirlwind and Funhouse all have blue as base color for the cabinet). The display panel is similar to that of Earthshaker: bonusses are indicated by a light underneath the alpha-numeric score displays. Game rules are simple and similar to Earthshaker and Funhouse. But the game still has a unique feel and is a lot of fun to play.
Whirlwind is distinguished by three playfield rotating discs, and a fan topper that blows wind on the player at certain times in the game. The objective in Whirlwind is to move the storm using the compass targets to light ball locks for multiball. In multiball, a progressive jackpot can be scored by making left ramp shots from the upper right flipper. Alternatively, one can work towards the "Wizard Mode" by lighting and collecting all of the seven "Super Cellar Door" values. Also, once player has earned five extra balls in a game, each one earned thereafter awards a score bonus.
"Whirlwind" 1990 Williams Electronics Games, Inc.
Concept and design: Pat Lawlor
Software: Bill Pfutzenreuter
Programming: Bill Pfutzenreuter
Game design: Pat Lawlor
Artwork: John Youssi
Sounds and music: Chris Granner
Mechanics by: John Krutsch
Mechanical finger in dike: Jack Skalon
Production: Williams Engineering staff
Direction: Pat Lawlor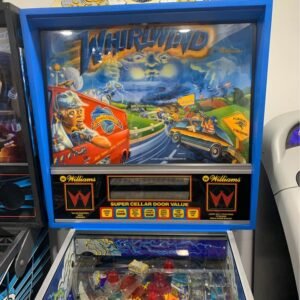 Commercial Use:
Where a used/secondhand/reconditioned item is not being used in a home, but is instead being placed in a commercial location such as a bar, pub, cafe, restaurant, bowling alley, trampoline park, youth club, office, factory, or similar, we will offer a 30 day on-site service warranty should any problems occur which are not a result of any misuse or malicious damage. This warranty will cover parts and labour.
Availability:
Our pinball machines are available from stock and usually take 2 to 4 weeks to be reconditioned and to be taken through our 26-point check. Sometimes this can be turned around in a quicker time frame; at other times it can take a little longer, especially if any parts are needed. You should then allow 7 to 10 working days for your pinball machine to be delivered, depending upon location and customer availability.
Please note that our classic pinballs tend to sell very quickly, so please call us before visiting the showroom to check we still have this particular model available.