The Batman: The Dark Knight Pinball Machine  is in great condition and has been serviced to make sure it is in perfect working order.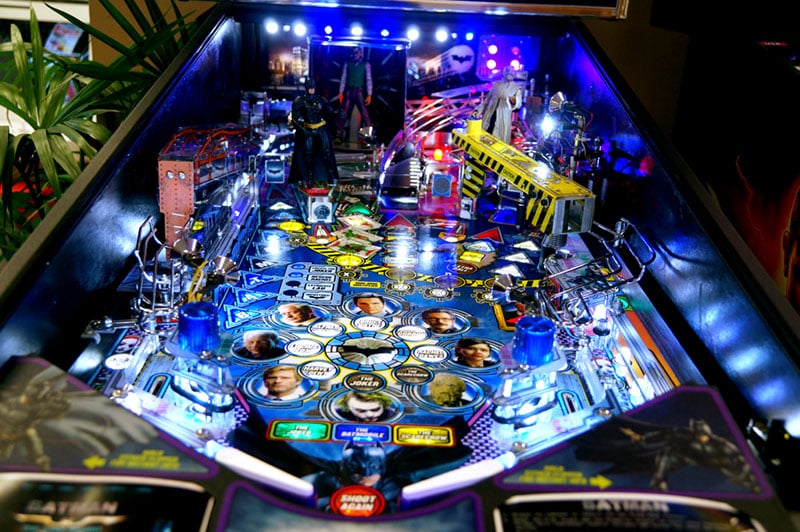 The Batman Pinball Machine was manufactured by Stern, makers of some of the greatest pinball machines in history. The game is based on the popular "Dark Knight" trilogy of Batman films conceived by Christopher Nolan, bringing forth two of the series most frightening and dangerous villains – The Scarecrow and The Joker.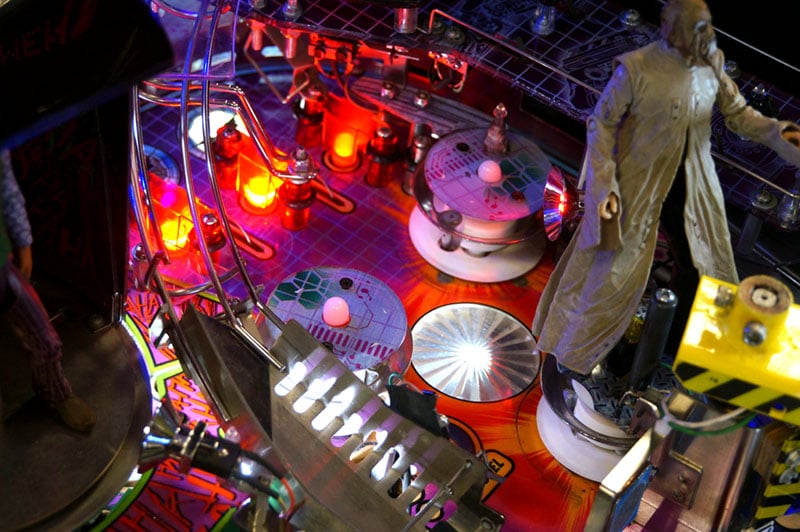 Batman: The Dark Knight Key Features:
Challenge the Criminal Masterminds of Gotham City: Do battle against both The Scarecrow and The Joker.
Swinging Bridge Ramp: Race the Batmobile with your ball on this large tilting bridge ramp.
Scarecrow Crane Moving Target: Watch the giant yellow crane swing out over the playfield, and pick off the dangling captive ball to get rewards and multiball modes.
The Joker Staging Area: Begin Joker Multiball to see the Joker reveal himself in the back of the game.
Bat Gadget Mini Playfield: Build up your arsenal of gadgets by rolling over switches on this mini-playfield.
Full LED Upgrade
2 flippers
3 pop bumpers
Condition:
This pinball machine is in great original condition. No reconditioning was deemed necessary. The game has been given a full LED upgrade to make the game's playfield shine.
This is a vintage machine and no cosmetic work is required.
Some machines we sell are fully restored, where we will fit new decals, new playfields, new parts such as ramps, and even upgrade certain items, such as the sound components. Where this type of reconditioning process has been undertaken we will make it absolutely clear that this is the case and the price will reflect the amount of time taken and costs incurred in this process.
Reconditioning and Servicing – 26 Point Checklist:
Buying a pinball can be a lot like buying a car: there can be problems underneath the bonnet that you wouldn't even know about, until they interrupt your fun!
It's worth noting that pinball machines are complicated in their workings. There are pitfalls to buying a second hand pinball machine elsewhere, and if you don't know what to look for, you can have an incomplete machine running at less than its potential. Furthermore, you could purchase a machine that is 20-30 years old and has a serious electrical fault.
Home Use:
This pinball machine comes with a 1 year parts warranty. All parts that are faulty will be replaced. Often we can solve any problems over the phone and supply any necessary components for the customer to fit. If necessary our specialist repairer can visit your home to inspect and repair your machine on-site, but this would be chargeable. Please call us for a call-out quotation. If parts are required which are not carried at the time these will need to be ordered for you.
Availability:
Our pinball machines are available from stock and usually take 2 to 4 weeks to be reconditioned and to be taken through our 26-point check. Sometimes this can be turned around in a quicker time frame; at other times it can take a little longer, especially if any parts are needed. You should then allow 7 to 10 working days for your pinball machine to be delivered, depending upon location and customer availability.
Please note that our classic pinballs tend to sell very quickly, so please call us before visiting the showroom to check we still have this particular model available.