The Star Trek: The Next Generation Pinball Machine  has been fully reconditioned and is in stunning condition.
The Star Trek Pinball Machine was manufactured by Williams Electronics, makers of some of the greatest pinball machines in history. This particular model is in fully working condition and is currently in our showroom for you to play and admire for yourself.
This fantastic machine will make a great addition to any pinball arcade or collection. This pinball game is great fun for Star Trek fans, pinball fans and entertainment seekers alike with immersive game play, fun missions, and voice clips by the actors of the original cast, any player is sure to enjoy this machine.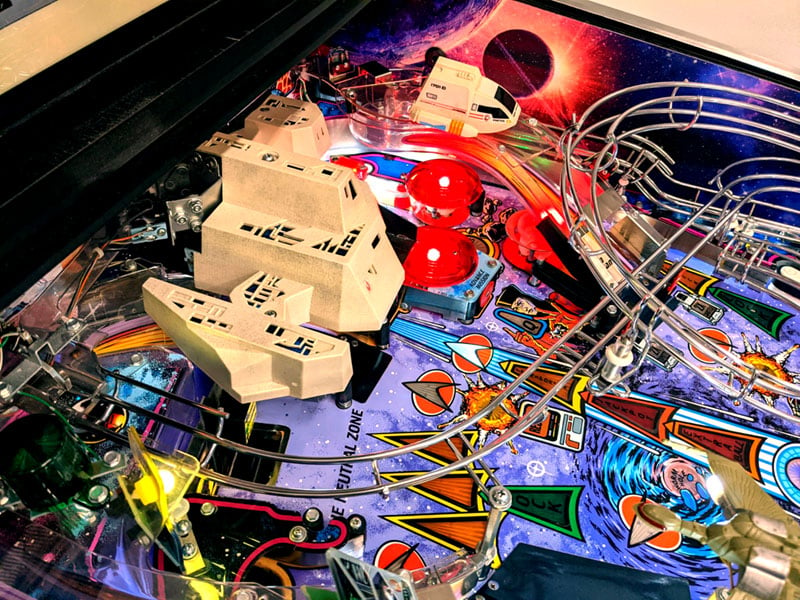 With a wide body format, this machine is packed with fun features for you to explore, pick up extra points and ensure you will never get bored with this fantastic pinball game.

Features:
3x Ramps: Alpha, Beta and Delta Quadron – master these skill shots to progress through certain missions
3x Flippers: two bottom, one right hand mid playfield
4x Cellar Holes: including important Start Mission skill shot
2x Cannons: shoot balls on target using the ray-gun plunger in missions
2,3,4 or 6 Ball Multi-ball: including Ferengi multiball, Cardassian multiball and Borg mulitball
8x Main Missions: Time Rift, Worm Hole, Search the Galaxy, Battle Simulation, Q's Challenge, Rescue, Asteroid Threat, The Final Frontier
3x Neutral Zone Modes: Ferengi, Romulan, Cardassin
Scoring & Game Modes: Explosive Millions, Bonus Multiplyers, Holodeck, Kickback, Shuttle Ramp, Warp Factors
1x Spinner Target
1x Shuttle Model
2x Ship Models
Buy Star Trek Pinball Machine
If you'd like to try out a classic pinball machine, we have a vast collection of over 15 different classic titles from various big pinball manufacturers like Bally, Williams and Data East on display in the showroom. All of these games are set up and set to free play for you to try for yourself. Even if we don't have the exact machine you're looking for, we can recommend other games that may play similarly.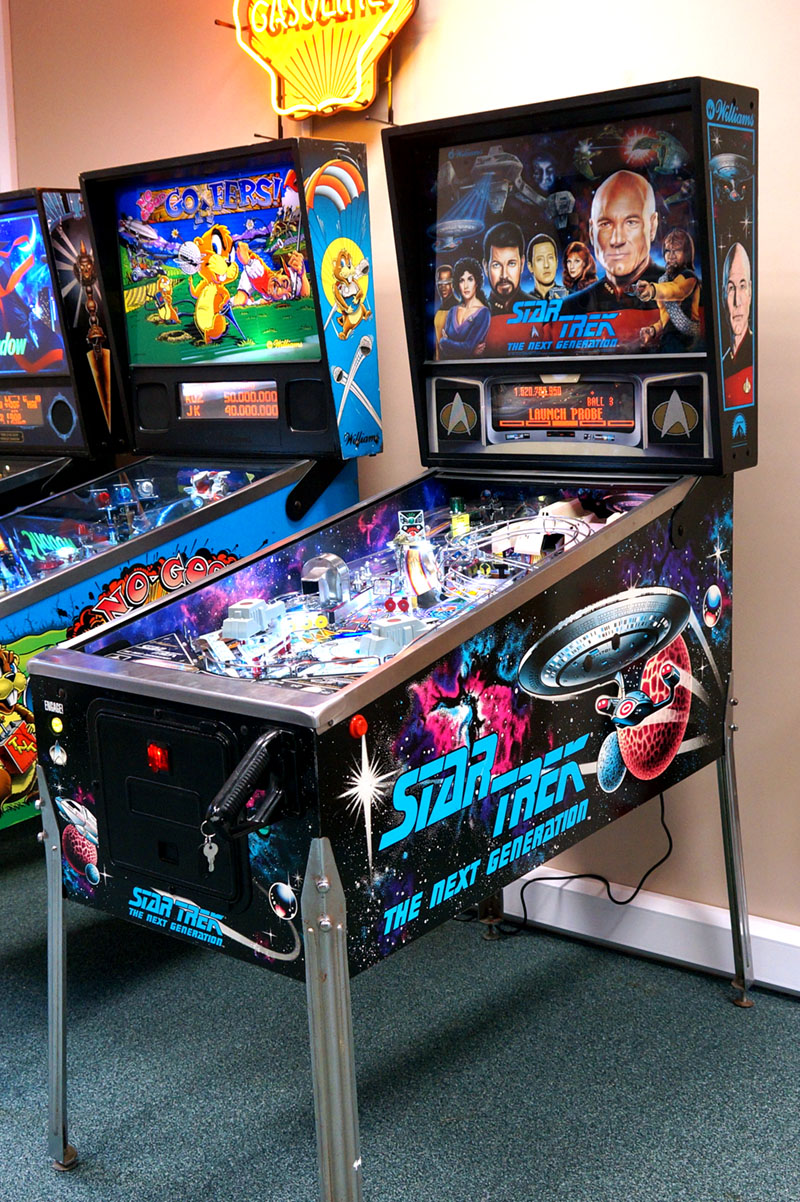 We are keen pinball enthusiasts and have experience of owning and playing a wide variety of pinball games. If you are looking for high-quality impartial advice it is definitely worth paying us a visit. There's nothing like playing a few games to get a real appreciation of how good a game really is.
Condition:
All our pinball machines go through a thorough inspection and reconditioning process, ensuring that they play perfectly with no errors. This is a vintage machine but is in a fantastic condition considering its age. It's a prime example of an all-original Star Trek: The Next Generation Machine that has remained in wonderful condition. The playfield is in excellent shape as is the cabinet. The playfield itself has had a complete LED upgrade. The game has even been fitted with additional artwork on the interior walls.
Some machines we sell are fully restored, where we will fit new decals, new playfields, new parts such as ramps, and even upgrade certain items, such as the sound components. Where this type of reconditioning process has been undertaken we will make it absolutely clear that this is the case and the price will reflect the amount of time taken and costs incurred in this process.
Reconditioning and Servicing – 26 Point Checklist:
Buying a pinball can be a lot like buying a car: there can be problems underneath the bonnet that you wouldn't even know about, until they interrupt your fun!
It's worth noting that pinball machines are complicated in their workings. There are pitfalls to buying a second hand pinball machine elsewhere, and if you don't know what to look for, you can have an incomplete machine running at less than its potential. Furthermore, you could purchase a machine that is 20-30 years old and has a serious electrical fault.
However, every machine that comes through our doors undergoes an extensive 26-point check with our trained engineer. This service is exclusive to every pinball we sell at Premium Pinballs. All machines undergo a full PAT test by a fully qualified engineer to eliminate any risk. We also check everything including the lighting, coils, flippers, full mechanics, electronics and everything else in between. These checks ensure that all components are rigorously tested and working.
This even includes cosmetic touch-ups and a full wax clean. We complete this 26-point check to ensure your new pinball machine is in tip-top working order and ready to spend a new life with its new owner.
Pinball Table Measurements:
| | |
| --- | --- |
| Dimensions | |
| Height: | 76″ |
| Width: | 29″ |
| Depth: | 59″ |
| Weight: | 130kg |
Please ensure you fully check that a pinball of this size will fit into your intended location.
Coin Mechanism:
We sell our restored, reconditioned and used products to home users; as a result, a functioning coin mechanism is not included, because the machine will be set to freeplay. However, we do offer the option to install a coin mechanism, in case you wish to set your newly purchased pinball up for that traditional feel where you can insert coins, or even charge your friends to play.
For an extra fee we will recondition the coin mechanism in your chosen pinball and test it thoroughly, leaving it in full working order. Please select from the drop-down options at the side of the screen.
Warranty:
Home Use:

This pinball machine comes with a 1 year parts warranty. All parts that are faulty will be replaced. Often we can solve any problems over the phone and supply any necessary components for the customer to fit. If necessary our specialist repairer can visit your home to inspect and repair your machine on-site, but this would be chargeable. Please call us for a call-out quotation. If parts are required which are not carried at the time these will need to be ordered for you.
After our 1 year warranty has expired we will continue to offer you complete support for any problems you have, either over the phone or by email, and can provide a chargeable engineer call out should it be required. Whatever happens, we will be able to look after you and your pinball machine.
Pinball machines are complicated items, which don't like being moved about, nor do they like the cold or humidity. Therefore, if you chose to move the pinball machine from where we originally installed it, or it is stored in a cold or damp location, our warranty will become null and void. We won't be able to supply any parts for your machine free of charge if it has been accidentally damaged or you have tampered with it in any way.
Commercial Use:
Where a used/secondhand/reconditioned item is not being used in a home, but is instead being placed in a commercial location such as a bar, pub, cafe, restaurant, bowling alley, trampoline park, youth club, office, factory, or similar, we will offer a 30 day on-site service warranty should any problems occur which are not a result of any misuse or malicious damage. This warranty will cover parts and labour.
Availability:
Our pinball machines are available from stock and usually take 2 to 4 weeks to be reconditioned and to be taken through our 26-point check. Sometimes this can be turned around in a quicker time frame; at other times it can take a little longer, especially if any parts are needed. You should then allow 7 to 10 working days for your pinball machine to be delivered, depending upon location and customer availability.
Please note that our classic pinballs tend to sell very quickly, so please call us before visiting the showroom to check we still have this particular model available.