The No Fear: Dangerous Sports Pinball Machine comes with free delivery and installation. It is in excellent condition and plays perfectly with no errors.
No Fear is an adrenaline pumping adventure in extreme sports that will test the mettle of any pinball player. Designed by industry legend Steve Ritchie, No Fear will have you skydiving, surfing, dirtbiking and snowboarding your way to the high score!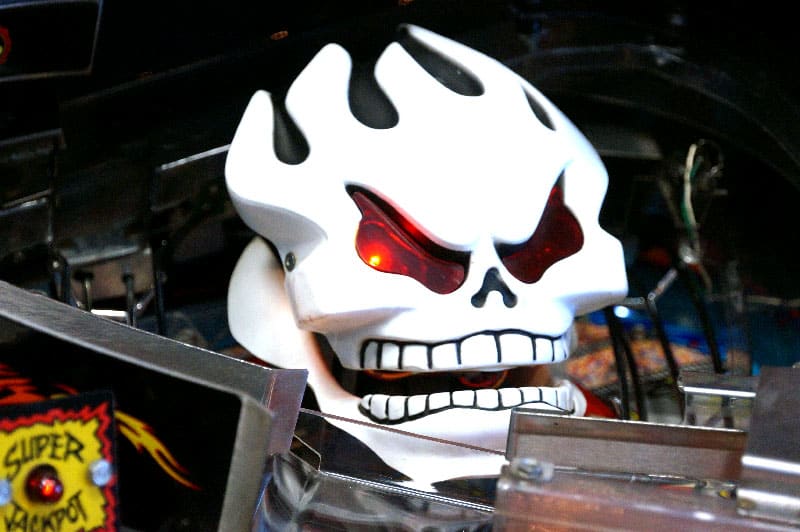 Key Features:
Animated Talking skull – shouts out shot instructions as players face 2, 3 and 4-ball multi-ball
5 Extreme Sports to Master: Conquer your fears as you complete various extreme sports!
Magnetic accelerator
Jump Ramp: Flip your way around this large ramp to build up huge points!
DCS Sound System speech
Full LED Upgrade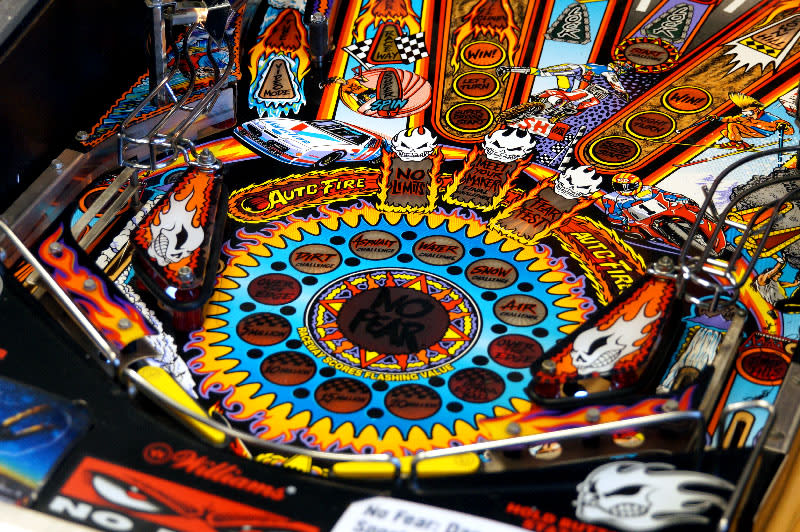 Condition:
This No Fear: Dangerous Sports pinball machine is in excellent condition, with the exception of some cabinet fade and scratches. The playfield is in spectacular condition however, and plays like a dream.
Some machines we sell are fully restored, where we will fit new decals, new playfields, new parts such as ramps, and even upgrade certain items, such as the sound components. Where this type of reconditioning process has been undertaken we will make it absolutely clear that this is the case and the price will reflect the amount of time taken and costs incurred in this process.
No Fear – Dangerous Sports Pinball Measurements:
| | |
| --- | --- |
| Dimensions | |
| Height: | 76″ |
| Width: | 22″ |
| Length: | 52″ |
| Weight: | 355lbs |
Please ensure you fully check that a pinball of this size will fit into your intended location and that it will fit through your doorways and corridors to reach your intended destination.
Coin Mechanism:
We sell our restored, reconditioned and used products to home users, as a result a functioning coin mechanism is not necessary, because the machine can just be set to freeplay. Many of the coin mechanisms are configured to take foreign coins or denominations which are no longer in circulation, therefore it can be difficult to actually find a coin to use in it.
Warranty:
Availability:
Our pinball machines are available from stock and usually take 2 to 4 weeks to be reconditioned and to be taken through our 26-point check. Sometimes this can be turned around in a quicker time frame; at other times it can take a little longer, especially if any parts are needed. You should then allow 7 to 10 working days for your pinball machine to be delivered, depending upon location and customer availability.
Please note that our classic pinballs tend to sell very quickly, so please call us before visiting the showroom to check we still have this particular model available.