Attack From Mars by Bally is completely restored to better than new condition.  Pristine cabinets, backglass, and playfields are the result of over 100 hours of detailed craftsmanship and new, high-quality materials.  These highly collectable machines looks like a new machine coming off the assembly line. They also have clear-coated playfields that protect the playfield from wear and will make your showpiece last a lifetime.  We are in an elite class of companies who  offer these completely restored machines.
High End Restoration Process:
Remove everything from Playfield and Cabinet
Tumble and polish all hardware
Sand off old cabinet artwork to bare wood
Bondo and repair cabinet (several times)
Tape off inside bottom of cabinet and paint whole cabinet
Prep cabinet surface for decals
Install decals and trim off excess
Set cabinet up on legs for reassembly
Install brand new ground braid
Disassemble power box and transformer, clean, paint and reassemble
Install new button(s), flipper button switches, new coindoor, new siderails, new lockdown bar receiver, new head head hinges, new bolts/nuts
Install head on cabinet
Disassembled backbox light board, clean harness, paint light board, and reassemble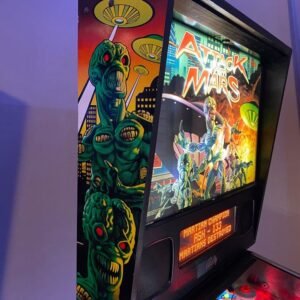 This pinball machine comes with a 1 year parts warranty. All parts that are faulty will be replaced. Often we can solve any problems over the phone and supply any necessary components for the customer to fit. If necessary our specialist repairer can visit your home to inspect and repair your machine on-site, but this would be chargeable. Please call us for a call-out quotation. If parts are required which are not carried at the time these will need to be ordered for you.
Availability:
Our pinball machines are available from stock and usually take 2 to 4 weeks to be reconditioned and to be taken through our 26-point check. Sometimes this can be turned around in a quicker time frame; at other times it can take a little longer, especially if any parts are needed. You should then allow 7 to 10 working days for your pinball machine to be delivered, depending upon location and customer availability.
Please note that our classic pinballs tend to sell very quickly, so please call us before visiting the showroom to check we still have this particular model available.