Buy Lord of the Rings Pinball Machine Online. The Lord of the Rings Pinball Machine has been restored and is in great used condition.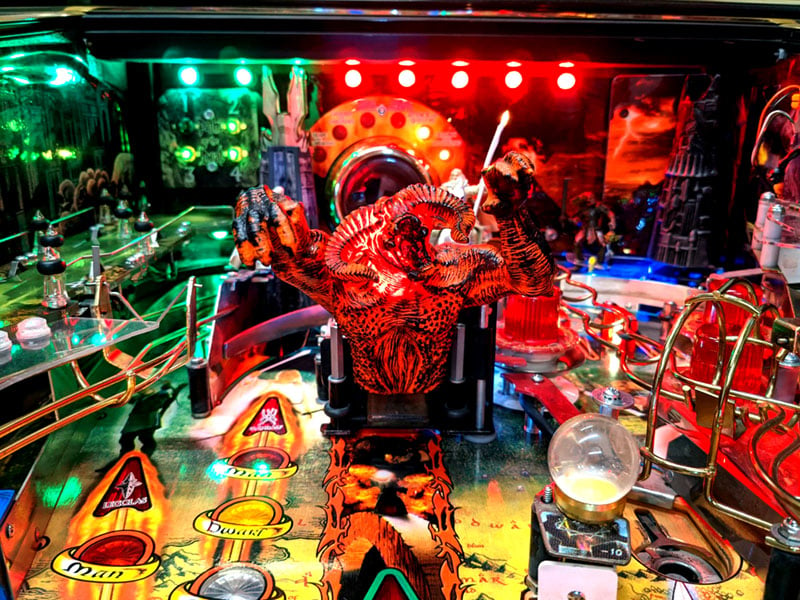 Enter the fantasy world of Middle Earth, and embark on a legendary quest like no other. From the literary genius of J. R. R. Tolkein, to the cinematic spectacular by Peter Jackson, and then to the incredibly designed pinball machine by George Gomez, The Lord of the Rings pinball machine takes players all over middle earth to rally an army against the dark forces of Sauron. Assemble the fellowship, Destroy Sauron's Barad-dûr fortress, and sink the one ring into the flames of Mordor to claim victory!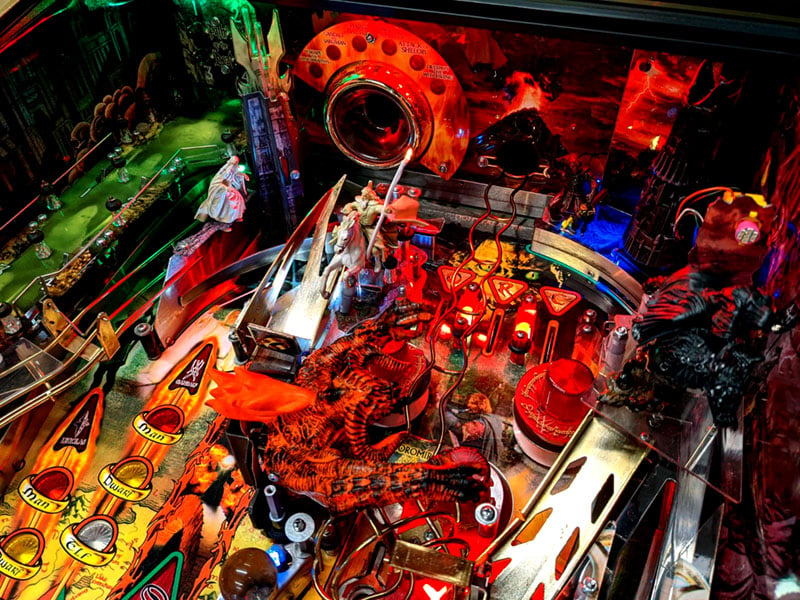 Key Features:
The One Ring: The legendary ring resides at the very back of the playfield. Launch up the jump-ramp into the centre of this ring, and watch your ball hover in the middle!
Balrog Toy: Balrog swings out to guard the one ring from your attacks. Defeat this monster, and gain full access to the ring to destroy it.
Collapsing Barad-dûr Tower: Send the ball towards the Eye of Sauron to see his tower quiver, then collapse!
Aragon's Sword: Lock balls on Aragon's blade to begin Two Towers multiball!
Four different multiball modes: Plenty of different multiball modes to master: One tying in to each movie, and one for Gollum!
Path of the Dead Mini Playfield: Send the ball to this mini-playfield to collect souls, to light Return of the King Multiball.
Character figures: The playfield features 12 unique Lord of the Rings character figures from the Lord of the Rings universe to bring the pinball version of Middle-Earth to life!
Incredible playfield layout by George Gomez!
Condition:
This Lord of the Rings pinball machine has remained in excellent condition and has been given numerous cosmetic upgrades to make it one of the greatest Lord Of The Rings machines we've sold. The game has received a full deep-clean, had all of its playfield mechanisms checked over and has been thoroughly playtested to ensure the game is functioning 100%. The game's backbox benefits from a more dynamic translite, whilst the cabinet has been given a golden trim to the metal parts. The playfield has also received a full LED upgrade.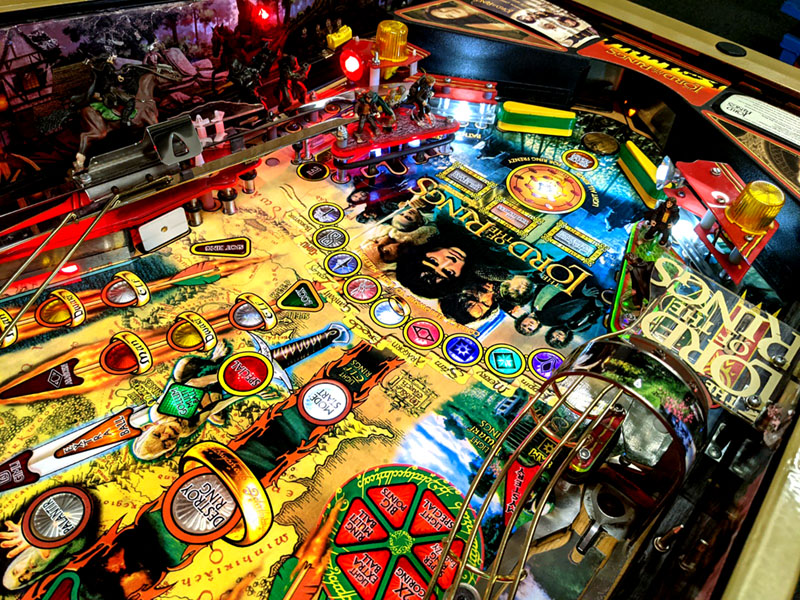 Pinball Table Measurements:
Please ensure you fully check that a pinball of this size will fit into your intended location
Coin Mechanism:
We sell our restored, reconditioned and used products to home users; as a result, a functioning coin mechanism is not included, because the machine will be set to freeplay. However, we do offer the option to install a coin mechanism, in case you wish to set your newly purchased pinball up for that traditional feel where you can insert coins, or even charge your friends to play.
For an extra fee we will recondition the coin mechanism in your chosen pinball and test it thoroughly, leaving it in full working order. Please select from the drop-down options at the side of the screen.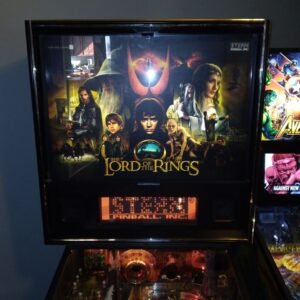 This pinball machine comes with a 1 year parts warranty. All parts that are faulty will be replaced. Often we can solve any problems over the phone and supply any necessary components for the customer to fit. If necessary our specialist repairer can visit your home to inspect and repair your machine on-site, but this would be chargeable.
After our 1 year warranty has expired we will continue to offer you complete support for any problems you have, either over the phone or by email, and can provide a chargeable engineer call out should it be required. Whatever happens, we will be able to look after you and your pinball machine.
Pinball machines are complicated items, which don't like being moved about, nor do they like the cold or humidity. Therefore, if you chose to move the pinball machine from where we originally installed it, or it is stored in a cold or damp location, our warranty will become null and void.
Availability:
Our pinball machines are available from stock and usually take 2 to 4 weeks to be reconditioned and to be taken through our 26-point check. Sometimes this can be turned around in a quicker time frame; at other times it can take a little longer, especially if any parts are needed. You should then allow 7 to 10 working days for your pinball machine to be delivered, depending upon location and customer availability.
Please note that our classic pinballs tend to sell very quickly, so please call us before visiting the showroom to check we still have this particular model available.