Buy TMNT Pinball Machine Online. Leonardo, Donatello, Raphael and Michelangelo are the Teenage Mutant Ninja Turtles, trained in the art of ninjutsu by their wise rat sensei, Master Splinter. Is New York City ready for these radical reptile brothers?  With a sick sewer lair and tough friends like April O'Neil and Casey Jones, the Turtles are about to face ev
Buy TMNT Pinball Machine Online. "Teenage Mutant Ninja Turtles began as a comic book, morphed into a hit animated show, and has grown into a beloved and iconic global pop culture phenomenon.  We have worked directly with Nickelodeon to bring these heroes in a half-shell into the pinball dimension.  This game has pure pinball power," said Gary Stern, Chairman and CEO of Stern Pinball, Inc.
The Premium and Limited Edition models feature an interactive custom sculpted Turtles Van, equipped to lock up to 4 balls inside with a mechanical opening/closing side door, ready to unleash multiball havoc upon players. controlled diverter assembly stationed above both ramps, giving players the ability to control and transport the ball to the flipper of their choice.
The Pro, Premium, and Limited Edition models all feature distinct hand-drawn art in addition to a high speed magnetic spinning pizza disc capable of holding and throwing 3 balls during pizza multiball mayhem.  The original 1987 theme music complements the action with custom video scenes and events created exclusively for this pinball experience.  All models include 3 flippers, 3 high speed ramps, and a hidden ninja training ball lock area.
The LE model is limited to 500 units globally.  The LE model includes additional unique features such as an exclusive mirrored backglass, exclusive custom themed cabinet artwork, a custom autographed bottom arch, exclusive custom art blades, upgraded audio system, anti-reflection pinball glass, a shaker motor, and a sequentially numbered plaque. Feel free to contact us for availability and pricing on the LE model
2 ramps
3 bumpers
3-ball multiball
Spinning pizza and ramps
In Japan, Game Machine listed Teenage Mutant Ninja Turtles on their June 1, 1991 issue as being the second most-successful flipper unit of the year.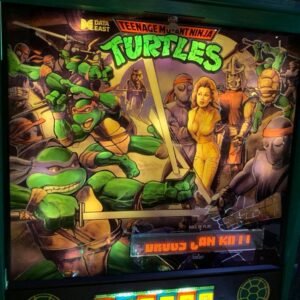 Availability:
Our pinball machines are available from stock and usually take 2 to 4 weeks to be reconditioned and to be taken through our 26-point check. Sometimes this can be turned around in a quicker time frame; at other times it can take a little longer, especially if any parts are needed. You should then allow 7 to 10 working days for your pinball machine to be delivered, depending upon location and customer availability.
Please note that our classic pinballs tend to sell very quickly, so please call us before visiting the showroom to check we still have this particular model available.