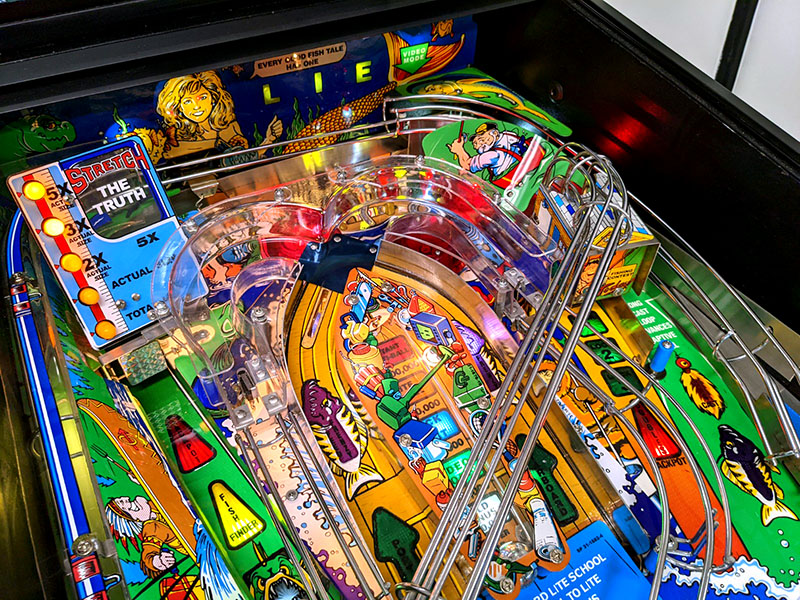 Buy FishTales Pinball Machine Online. The Fish Tales Pinball Machine is manufactured by Williams, makers of some of the world's greatest pinball machines.
"Uh… You're not gonna' eat that, are ya'?"
Grab your fishing gear and head out to the lake in Williams' Fish Tales – A true pinball classic designed by Mark Ritchie. Fish Tales is a broadly appealing game with easy to understand rules and humorous gameplay and speech. This isn't your typical fishing getaway though. You'll wrangle monster-sized fish, clear water skiiers away from the lake and tell tall tales about your catches for bigger points!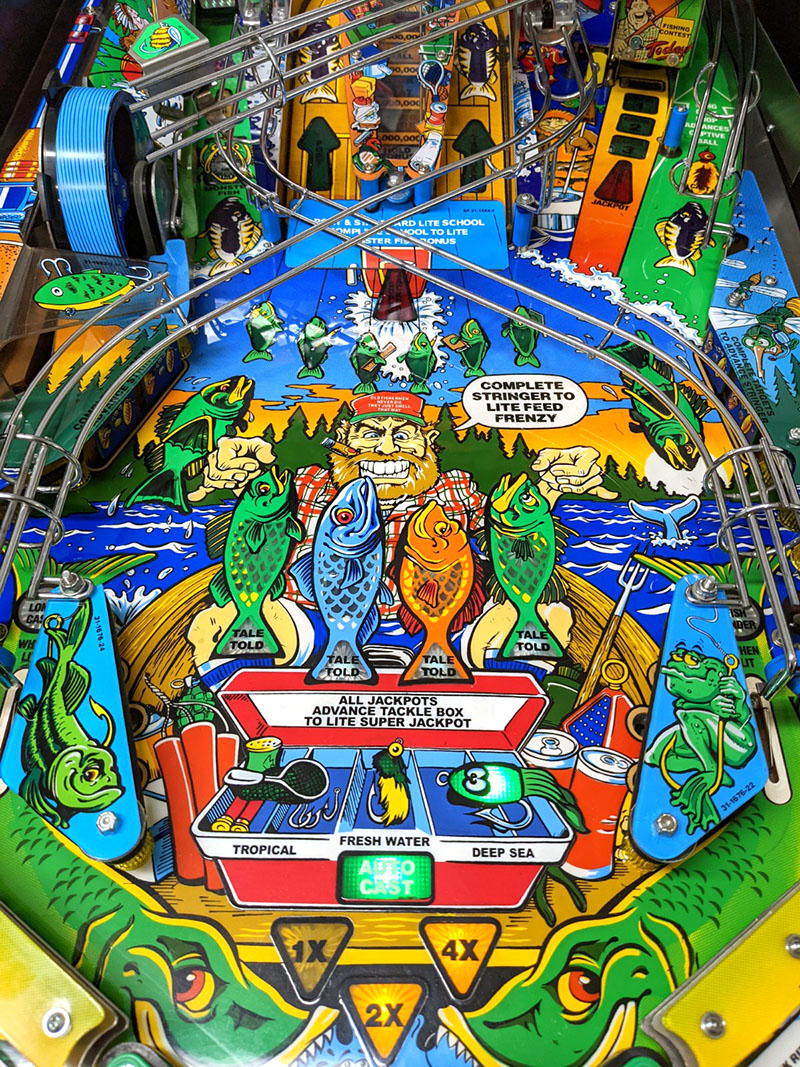 Fish Tales is one of the most popular pinball machines ever produced, with a reported 13,000 units produced.
Objectives in Fish Tales include:
Monster Fish: Shots to the lit criss-crossing center ramps light "Monster Fish" on the spinner, a "Hurry-Up" that can be worth 20 to 50 Million points.
Feeding Frenzy: Four caught fish light the two ramps and two loops.
Rock The Boat: A captive ball award.
Video Mode: Another captive ball award, involving playing a video game on the dot-matrix display for extra points.
Fish Finder: A random award achieved by shooting the top scoop after passing the right inlane next to the slingshot.
Extra Balls: Gained from Rock the Boat, the Fish Finder random award and Video Mode.
Fish Tales has had an enduring popularity since its production in 1992, and now you can see for yourself why this machine has proved so popular!
Key Features:
Boat Ramp: Send your ball up both sides of the boat and into the criss-cross ramps to work you way towards the Monster Fish.
Boat Captive Ball: Strike this captive ball to access increasing levels of rewards. From video modes, bonus modes and instant multiball.
Caster's Club and Fishing Reel: Lock your balls in the Caster's Club, then watch it be fired into one of the three spots in the game's fishing reel ball lock.
Catapult: Watch your balls get launched into play with speed at the start of Multiball.
Fishing rod-shaped autoplunger

Pinball Table Measurements:
Please ensure you fully check that a pinball of this size will fit into your intended location.
| | |
| --- | --- |
| Dimensions | |
| Height: | 71″ |
| Width: | 31″ |
| Depth: | 52″ |
| Weight: | 118kg |
Coin Mechanism:
We sell our restored, reconditioned and used products to home users; as a result, a functioning coin mechanism is not included, because the machine will be set to freeplay. However, we do offer the option to install a coin mechanism, in case you wish to set your newly purchased pinball up for that traditional feel where you can insert coins, or even charge your friends to play.
For an extra fee we will recondition the coin mechanism in your chosen pinball and test it thoroughly, leaving it in full working order. Please select from the drop-down options at the side of the screen.
Availability:
Our pinball machines are available from stock and usually take 2 to 4 weeks to be reconditioned and to be taken through our 26-point check. Sometimes this can be turned around in a quicker time frame; at other times it can take a little longer, especially if any parts are needed. You should then allow 7 to 10 working days for your pinball machine to be delivered, depending upon location and customer availability.
Please note that our classic pinballs tend to sell very quickly, so please call us before visiting the showroom to check we still have this particular model available.
Delivery and Installation will be made to the ground floor room of your choice, provided we can park our delivery van near to your property, have easy access and no steps or steep slopes to negotiate.